Pretty much everyone could use some extra cash in their pocket, especially during these times of economic uncertainty.
But the idea of making $30 in 30 minutes sounds like a gimmick, doesn't it?
It's true that – despite what many shady websites and companies would like you to believe – there are no authentic "get rich quick" schemes.
However, scoring some extra pocket change quickly is a different story. You might be surprised to learn that there are quite a few legitimate options out there!
So if you're in need of some extra cash on the double, follow these tips to put some moolah in your pocket with minimal time and effort on your part!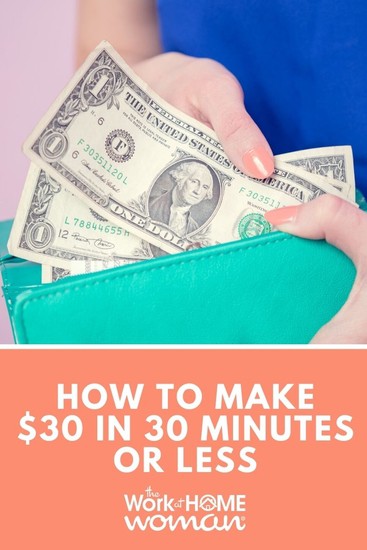 1. Sell Your Unused Gift Cards
Still have a few gift cards kicking around since Christmas that you know you'll never use?
You can sell them for cash quite easily. Services like Cardpool will buy your unwanted gift cards for resale to another buyer.
If you need cash fast, you can hunt down one of their Gift Card Kiosks that are nearby and get paid instantly.
All you need to do is enter the gift card info into their system to see what kind of cashback offer you can get for it. If you decide to accept, the kiosk will print a voucher that you can take to the cashier for payment.
Keep in mind that you won't make the full value of the gift card. Best case scenario, you might get around 90% of the card's value back in cash. But if there isn't much demand for the card in question, you could be looking at as little as half the card's dollar amount.
Still, it's one of the fastest and easiest ways to make $30 in 30 minutes – depending on how many gift cards you have stashed away and how long it takes you to drive to the kiosk!
2. Sell Your Stuff on VarageSale
Selling old items on VarageSale is one of the easiest ways to make cash quickly. (Perfect if you were lacking some incentive to spring clean your garage or basement!)
VarageSale works by advertising your items within your community. Think of it as a lawn sale, except you don't have to haul everything out to your front yard and stand in the sun all day.
You get to advertise your items online, set your prices, and make bargains with other interested parties.
I love this platform because they take steps to ensure that deals made on their platform are done safely. For example, all users are verified by connecting their Facebook profile and are approved by a VarageSale admin.
Chances are, you've got some old items that are worth at least $30. Maybe you have an old Apple product you don't use anymore, some old clothes your kids have grown out of, or some older furniture you don't have space for anymore.
Even old textbooks, DVDs, video games, and other things you wouldn't think to sell can find new homes through VarageSale.
All you need to do is snap a picture of it with your phone, sign up for an account, and list your items. Ten minutes of work – tops!
3. Sign up for Ibotta; Then Spread the Word!
Ibotta is a money-saving app that gives you cashback on certain purchases you make at stores like Walmart, Target, or Best Buy.
It takes under five minutes to set up an account. Once you tell it your store preferences, you can browse coupons to add to your Ibotta wallet. Some offers require you to watch a video or answer a survey question or two.
It's particularly useful for groceries since those are items you are buying anyway. Many users report saving over $100 on groceries every year just from using the apps coupons.
Before you argue that this is more of a way to save money rather than make money, Ibotta offers a $20 welcome bonus for using the app!
And there's yet another way to earn cash quickly with this app; by referring others. You'll make $5 for each friend who signs up and redeems an offer.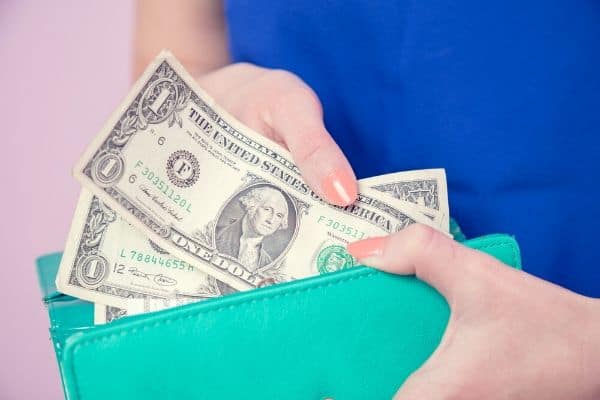 4. Do a One-Off Job on Gigwalk
You don't need to have an established side business to benefit from the gig economy. There are a lot of gig service sites you can check out to find easy, quick jobs to do.
One such site is Gigwalk. This app for your phone helps you find local jobs in your area. Pins display the available gigs on a map.
Most of these jobs come from retailers that are attempting to verify that their products are available, on display, and being marketed correctly. This means "Gigwalking" often entails entering a store and taking pictures of displays.
When you find a job you'd like to do, you can click the "apply to gig" button. Once you've been selected for the gig, you'll receive more details on how to get the job done.
After you finish your assigned task, you get paid via PayPal.
The jobs themselves can take anywhere from a few minutes to a few hours, with the pay per job ranging from $3-$100.
This app is ideal for those who live in cities where gigs are close together; you could potentially do two or three gigwalks at a time.
Conclusion
You're not likely to earn a full-time income with these methods, but they can help you net some extra cash quickly. They can also help you earn more money gradually over the course of the year.
Every dollar saved or earned can make a big difference in the long run!
So take advantage of the low-hanging fruit, and you'll be pocketing that extra cash in no time.
You'll Also Love These Posts:
Studies have shown if you like this blog post — you will also love reading the following articles.
Corrie Alexander is a content creator and logistics nerd from Toronto, Ontario. Her climb up the corporate ladder cultivated her interest in the topic of career development, a passion rivaled only by her love of exercise and strong coffee. As an alumna of both Horkey Handbook's Freelance Writing and Virtual Assistant courses, Corrie loves helping other bloggers and small business owners grow! Visit her website, thefitcareerist.com.
This post includes affiliate links. Please be aware that we only promote advertising from companies that we can legitimately recommend to our readers. See our disclosure policy for further information.