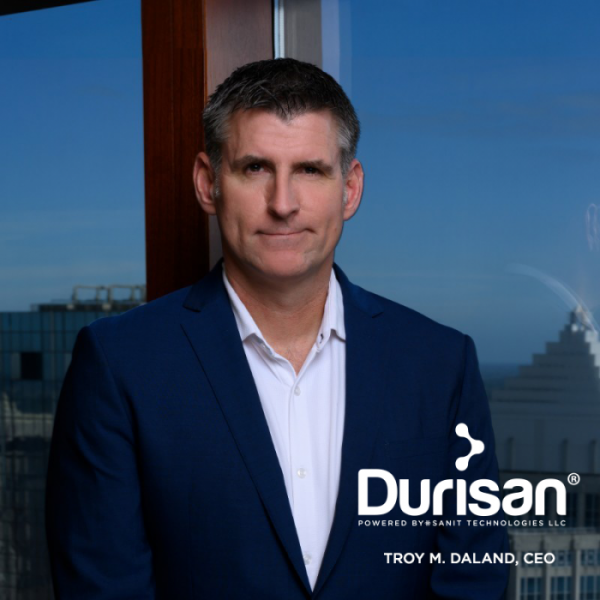 By Natalie Marciniak, Communications Specialist at Durisan
Working with a professional like Troy Daland has been not only an inspiration but also an honor. Troy Daland, CEO of Durisan, is a proven change agent with more than 24 years of service in the U.S. Department of Defense. Before becoming an antimicrobial and viral solutions expert in 2019, Daland served his country as both a Survival Evasion Resistance Escape Specialist and a Superintendent for a Personnel Recovery Cell. Daland is recognized as a leading expert in building and motivating high-performing teams to accomplish what few thought possible — or considered doing at all.
Creative in solving complex problems and tested in the battlespace, this former special operations team member exhibits the unique ability to apply the skills he honed in the military to the business ecosystem. Strategic planning and decisive action are his hallmarks.
When Daland joined Durisan, he knew that his strategically focused, extremely detail-oriented, and organized mind would help him recognize and develop opportunities for growth. He is a trusted executive leader with a proven ability to design sound business strategy and execute solutions to complex challenges.
In recent months, as the world has struggled to adapt and overcome in the new landscape of the COVID-19 global pandemic, Daland's military background and ability to utilize long-range vision have helped him lead Durisan through unprecedented uncertainty — and opportunity. Daland conducted research and studied trends in human behavior to analyze the situation, prioritize corporate and individual actions, and move decisively to raise Durisan's brand recognition and grow its market share.
Daland has gathered and deployed a strong group of dedicated employees. Under Daland's direction, Durisan has increased manufacturing capacity, hired veterans from nearby MacDill Air Force Base in Tampa, Florida into key leadership positions, and established a breakthrough product. This product is not only proving beneficial in today's environment but is also certain to be important in the new normal after the pandemic passes. There is no doubt that what once passed muster in sanitizing practices and products has forever been changed.
At its 30,000-square-foot Sarasota factory, Durisan's highly skilled workforce is operating around the clock to meet society's demands for antimicrobial solutions in a world where microscopic novel threats can put us all in danger. Leading the way will be Daland, using the tools and training he received in the Air Force to the world of COVID-19.